The future isn't what it used to be, at least as far as commercial architecture is concerned. In the 1950's and 60's an evolving building style thrust passersby into the architect's view of the future. These futuristic creations which look like they might have been teleported from Tomorrowland or the Jetsons actually owe their origins to the intense competition for attention between roadside businesses--primarily coffee shops--in Los Angeles.
"Serious" architects were aghast by this development. Editor Douglas Haskell found the style epitomized by the Googies Coffee Shop at at the corner of Sunset Boulevard and Crescent Heights in Los Angeles, and dubbed the style as "Googie architecture" in an article in a 1952 issue of House and Home. This name swept architectural circles, primarily as a pejorative reference to design excesses.
Elements of GoogieG1 include:
Suspension of Gravity -- Portions of the building hang in space without visible means of support.
Sheet Glass -- The barrier against the outside world is a mere force field of a fraction of an inch of transparent silica.
Upswept Roofs -- The better to further the illusion of defiance of gravity and facilitate the use of glass
Domes -- If it looks like a flying saucer, even better!
Boomerang, Amoebic, Atomic, and Starburst Shapes -- The less it looks like a building the better--as long as it would not be out of place in schlock science fiction.
Exposed Steel Beams, Rock and Terrazzo -- Non-traditional and space age materials replace wood and bricks.
Where coffee shops are concerned, nothing succeeds like excess. The style spread from its Mecca in LA through the nation. Phoenix, not infrequently thought of as aspiring to become LA, could not resist. Though the Googies peaked with the Space Needle at the 1964 World's Fair, a number of fine examples of this style remain in Phoenix.
Two prime contributors to Googie in Phoenix were the Dennys and Big Boy restaurant chains. The first DennysG2 in Phoenix was at Van Buren and 32nd Street. It remains in nearly pristine condition, proudly displaying the boomerang shape roof floating above a sheet glass wall. Inside, a large shelf hovers above the original counter.
JB's is successor to the Bob's Big Boy restaurants in Phoenix. At first, the restaurants became JP's Big Boy Restaurants. Then they became just JB's. In an unfortunate attempt to leave the past behind, JB's smothered the Googie with updated facades. The result is a building that is neither historic nor modern.
Though the Christown Lanes at Bethany and 19th Avenue opened in 1975, they uphold the finest tradition of 1960's Googie.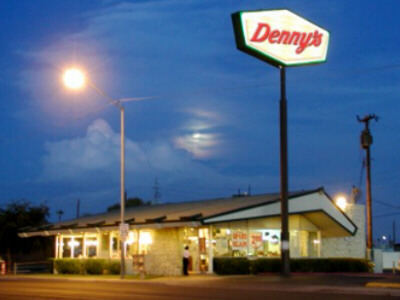 The boomerang shaped roof floats atop sheet glass on the 1950's style Dennys at 3217 E. Van Buren St. Sadly, it is no longer a Denny's, but it was still standing at our last drive-by in 2008. 7-01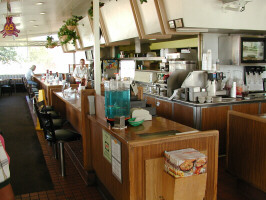 Inside the Van Buren Dennys, which remains much as it was when it first opened, a large shelf levitates above the window to the kitchen. 7-01

JB's has attempted to cover its Googie origins, but the boomerang roof refuses to submit to a mere stucco facade. 7-01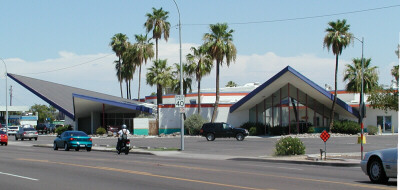 Proving that Googie was not dead in 1975, the AMF Christown Lanes opened at 1919 W. Bethany Home Road, 602-249-1715. 7-01 [Records, Planning & Zoning, City of Phoenix, 602-262-7800]
---
Footnotes and Sources for Googie:
G1. Googie Architecture: A post-WWII architecture style which thrived in the 1950s and 1960s, featuring bold angles, colorful signs, plate glass, and pop-culture imagery, resulting in buildings that look as if they belong in Tomorrowland or Jetsons cartoon. The name is derived from the 1949 design of Googie's coffee shop at the corner of Sunset Boulevard and Crescent Heights in Los Angeles. See Googie Architecture Online, Googie Central, and Shelby Grad, Googie Architecture.
G2. Harold Butler opened Danny's Donuts in Lakewood, CA in 1953. As more shops were added in 1954, the menu was expanded and the name changed to Danny's Coffee Shops. By the end of 1959, there were 20 restaurants in the chain and the name was changed to Dennys Coffee Shops. In 1963 there were 78 restaurants in seven western states. History of Dennys, accessed 7-9-01.
Alan Hess, Googie: fifties coffee shop architecture, Chronicle Books, San Francisco, 1985.
Kurt Andersen, "DESIGN: LEGACY OF THE GOLDEN ARCHES HIGHBROWS CELEBRATE LOWBROW FAST-FOOD ARCHITECTURE." , Time, 06-02-1986, pp 71.