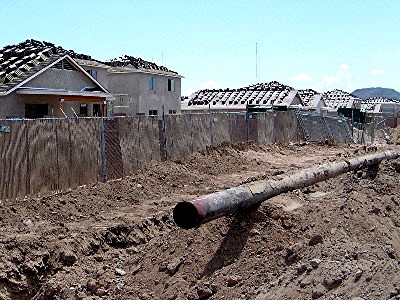 When this photo was taken on August 31, the pipe that ruptured had been dug up and placed on top dirt from the trench. The City of Tucson advised the builder to destroy five homes under construction east of the pipeline (to the left in the picture) which were doused with gas when the line ruptured. The Santa Cruz River (usually dry) is immediately to west of the pipeline. A completed and occupied portion of the DR Homes development abuts the river to the west. The ruptured pipeline was on the south side of Silverbell Tree Drive immediately after it bridges the Santa Cruz River. 8-03.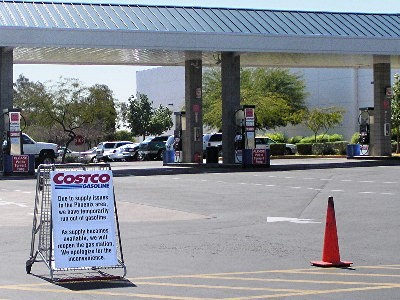 The first stations to run out of gas were discounters that purchase their supply in the spot market. Outages have not been foreign to Costco, especially during the changeover to the summer recipe for fuel in the Phoenix market, as was the case in March 2003 when the Warner Road Costco in Tempe closed its pumps. 3-03.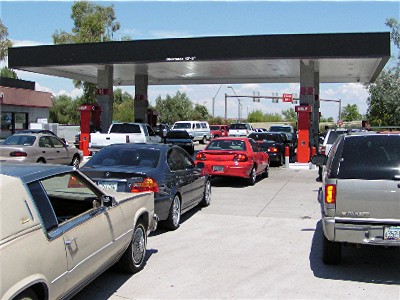 Your photographer visited Cousin's Subs before entering this queue at the Texaco StarMart on Broadway Road and Loop 101 in Tempe. By the time the sandwich was finished, he had reached the pump. 8-03.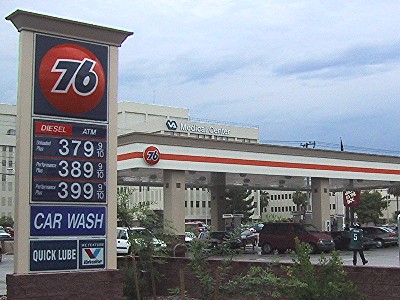 Some stations took advantage of the short supply. While prices rose at most stations to slightly above $2.00 a gallon for regular ($1.99 at most Arco stations), less scrupulous vendors charged much more. This station at 7th Avenue and Indian School in Phoenix attracted more media attention than lines. While the pumps were full, the line was minimal. Radio and television stations sent reporters to interview the manager. If customers have a memory the quick profit may be short sighted. Major sellers appeared to be sticking to more moderate prices. 8-03.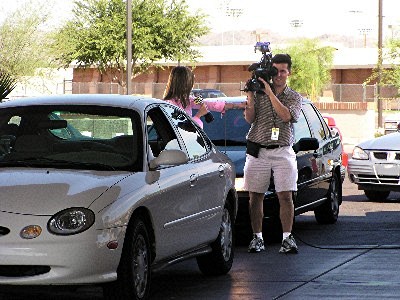 Television news crews camped in gas station lines to get the motorist's view. Channel 15 showed up at Warner & Kyrene to interview motorists on Wednesday, August 20 when lines were subsiding. The three person staff at the station had lines well organized, but one mile north on Warner, the Arco station had gas pumps operating and no lines. 8-03.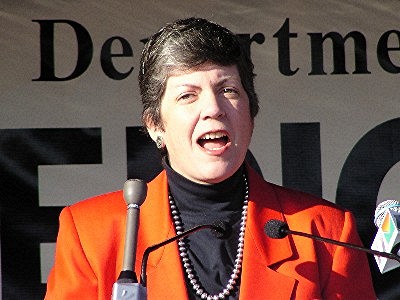 Governor Janet Napolitano cut short a trip to take charge of state actions in the Phoenix fuel crisis. She is pictured here at the opening January 2003 opening of a section of the 202 freeway. 1-03.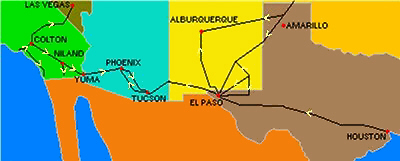 Phoenix receives its gas from two directions. 70% of the supply comes from the Los Angeles area via Yuma. The remaining 30% is delivered from El Paso via Tucson. A second line running from Phoenix to Tucson delivers aviation fuel to Tucson. 3-03.
Pipeline Timeline
Gas Price1
1955
Tucson-Phoenix pipeline built
.272
1988
Alert warns of manufacturing defects in pipeline pipe
.982
1989

Second alert warning of pipe defects
1.072
1998
Kinder Morgan acquires Tucson-Phoenix pipeline
1.212
2003
Wed July 30
Tucson-Phoenix pipeline ruptures in Tucson
1.543
Tue August 5
Governor Napolitano departs for 7 day raft trip on Colorado River
Fri August 8
Kinder Morgan shuts down Tucson-Phoenix pipeline
1.543
Wed August 13
Stations buying on the spot market running out of gas
Governor Napolitano returns from rafting trip
1.683
Fri August 15
Lines forming at stations with gas
Governor Napoiltano attending NGA Conference
Mon August 18
Lines and gas prices peak
Governor returns from NGA Conference early
3.804
Tue August 19
Use of non-"Phoenix mix" authorized
Hydrostatic test of Tucson-Phoenix line begins
35% of stations have gas
Wed August 20
Eastern portion of Phoenix-Tucson pipeline fails test
LA pipeline shut down for 7 hours
55% of stations have gas
1.983
1 Per gallon regular in Phoenix
2 Rounded US city average, CA Metropolitan Transportation Commission, Consumer Price Indices Bay Area & US Cities1950-2000, Page 23, Table 6.
3 Weekly Fuel Reports of Arizona Automobile Association (Reported on Thursdays)
4 Peak price observed


A Pipeline Pipe Primer
Low frequency ERW pipe, the kind used in the Tucson-Phoenix pipeline, was introduced in the 1920's and was manufactured until around 1978. This pipe is made from hot rolled strips of steel. The strips are bent cold into long cylinders so that the longitudinal edges meet. Those edges are then joined with mechanical pressure and electrical resistance welds (ERW). While some welding uses a flux or other medium to join metals, the weld used for the pipe melts the edges so that they bond when pressed together. The heat and pressure force some material to bulge inside and outside the pipe at the weld, which is trimmed off leaving smooth seam.

Until 1962, all ERW pipe was made using direct current or low frequency (360 cycles per second or lower) alternating current, the latter being employed in the manufacture of the pipe used Tucson-Phoenix pipeline. Both direct current and low frequency AC welds required direct contact between the edges being bonded and the electrodes which rolled down the seam. Any dirt, scale, oxide, grease or other contaminant along the edges to be joined could, and often did result in inadequate bonding. Unbonded areas of the seam could also result if there were fluctuations in power temporarily reducing the heat at the weld site.

The ERW process results in a narrow line of bonded steel, and adjacent strips of steel which has been heated on each side of the seam. The weld and surrounding heated metal is harder and more brittle than the rest of the pipe, and may be subject to cracking over time. Some manufacturers heat treated this area in an attempt to reduce the excessive hardness.

Manufacturers began converting from low frequency to high frequency current (450,000 cycles per second) in 1962. Welds formed with the higher frequency current were not nearly as susceptible to problems from contaminants in the weld area or power fluctuations. In addition, the heated area surrounding the seam as well as the seam itself are smaller reducing other potential seam problems. By 1978, all ERW pipe was manufactured using high frequency welds.

During the 1970's and 1980's the metal used to make the pipe also improved as manufacturers began producing steel in basic oxygen furnaces (BOF). In the BOF, an oxygen lance blows pure oxygen into a mixture of molten iron and scrap, combining the oxygen with carbon to reduce impurities.

The pipe in the Tucson-Phoenix was manufactured in 1955 or before.
The pipeline rupture. On Wednesday, July 30, 2003, a 48-year old pipeline carrying gasoline from El Paso to Phoenix ruptured on the south side of Tucson. The break in the high pressure underground line spilled 10,000 gallons of gasoline, dousing 5 homes under construction on West Grant and North Silverbell roads. To say that residents of other homes in the area surprised by the incident would be an understatement. They say they had not even known that a pipe line was in the area.
Two days later the pipeline's owners resumed shipment of gasoline at a reduced pressure. On August 8 when test results indicated that a pipe defect caused the incident, they shut the line down. With the line shut down, Phoenix lost the source of up to 2.3 million gallons of gasoline a day.
Lines begin to form at gas stations. The diminished supply of gas was hardly noticed by Phoenix motorists until the week after the shutdown. At first, suppliers like Costco Wholesale that obtain their inventory on the spot market ran out of gasoline and closed their pumps. On Tuesday August 12, ARCO, which operates 77 stations in the valley, reported supply problems. As station inventories were used up, other stations began closing. By the weekend of August 16, more stations were closed than open. Stations would open upon receiving a delivery and lines curling around the block would quickly form. When the station's tanks had been drained, the pumps would be flagged as empty as the station again joined the closed majority.
On Sunday as motorist attempted to gas up for the Monday morning commute, there were reports of two hour waits at the stations that were open. Although most motorists suffered the inconvenience stoically, some even with good humor, tempers occasionally flared.
Prices rise. As the gas lines got longer, the prices at the pump soared. As early as Tuesday August 12, prices at some stations had risen over 30 cents from the previous week's price to $1.89 per gallon of regular. On Friday, August 22, the AAA reported that the average price of self-serve regular unleaded gasoline in Phoenix was $1.98 per gallon, but to many motorists this seemed more like the low than the average price.
Personal observation indicates that the Phoenix prices peaked on Monday much higher than indicated by the end of week AAA survey. Prices barely under $2.00 were found rarely, and then only at discount stations like Arco. Most prices appeared to be in the $2.15 to $2.20 range when the lines were most in evidence.
Phoenix motorists did not suffer their pain alone. Prices rose around 25 cents from the previous week in Southern California, and 14 cents in Las Vegas. The rationale: gasoline from LA suppliers was being diverted to Phoenix to replace the Texas supply. On August 18, the Energy Information Administration reported the average price per gallon of regular unleaded on Monday, August 18 to be $1.887 on the West Coast, with San Francisco at $2.007 and Los Angeles at LA $1.922. The national average was $1.627, but Houstonians, where the pipeline through Tucson originates, paid only $1.494
Only a few stations took full advantage of the shortage. The Union 76 station at 7th Street and Indian School Road jacked up the price of regular to $3.799 per gallon. At that price, the pumps were full, but lines were not in evidence. That pricing attracted more media attention than lines. Television and radio stations sent reporters. One irate non-customer stood at the door to the convenience market loudly berating motorists for patronizing the station.
The pipelines that serve Phoenix. The eight inch pipeline that ruptured on the outskirts of Tucson is one of two pipelines that bring gasoline to the Phoenix metropolitan area. It supplies about 30% of the valley's needs with gasoline from Texas which is brought to Tucson via a twelve inch pipeline from El Paso. The remaining 70% of the valley's gas comes from southern California in a pipeline that runs through Yuma.
Both pipelines, as well as a third delivering jet fuel from Phoenix to Tucson, are owned by Kinder Morgan Energy Partners of Houston. The Kinder Morgan partnership was formed 1997 as place where companies could stash slower growing properties to get tax benefits. Richard Kinder, the co-founder and CEO of the partnership, was the CEO of Enron until 1996 when he left taking all of the stock of Enron Liquids Pipeline as the first acquisition of his new company.
Enron was the Houston based energy company formed in 1985 which achieved fast growth, and headlines for unscrupulous actions. It got into the headlines during California's 2000-2001 energy crisis for manipulating wholesale electricity prices, causing utilities to pay an alleged $9 billion more for electricity than they should have. On December 2, 2001, after its use of complex partnerships to hide $500 million in debt came to light, it made headlines again when it filed the biggest corporate bankruptcy in U.S. history.
Kinder Morgan's growth is reminiscent of Enron. In 2001, the Kinder Morgan partnership was Houston's second fastest growing company, with revenues 3.5 times the previous year. In 2003, just days before the Tucson rupture it reported a 17% gain in second quarter revenues.
The month before the break, residents in Fallon, Nevada gave Kinder Morgan a bit of bad publicity. In a move which brings Erin Brockovich (Universal & Columbia,2000) to mind, they filed a toxic tort lawsuit against Kinder Morgan. 16 children have been diagnosed with leukemia in the community near Reno, and two of the children have died. The suit alleges that leaks from pipelines, storage tanks and other facilities owned by Kinder Morgan were the cause of the cancer cluster.
An early warning of pipeline troubles. Perhaps problems in the pipeline, including the July 30 break, should have been anticipated. On January 28, 1988, and again on March 8, 1989, the Office of Pipeline Safety issued alerts. They warned of manufacturing defects in low-frequency ERW pipe which is the type used in the Tucson-Phoenix run. These defects, the alerts said, could cause caused longitudinal weld seam failures that could grow over time.
In 1996 a former owner of the pipeline, Santa Fe Pacific Pipeline Partners, was fined $3,000 by the Arizona Corporation Commission for failure to inspect some pipeline components six times a year as the rules required. Kinder Morgan did not acquire the pipeline until 1998.
On August 19, Kinder Morgan announced that it was beginning hydrostatic testing of the 8 inch line which delivers fuel from Tucson to Phoenix. The next day it was announced that the eastern portion of the repaired section of pipeline had failed its test.
On Wednesday, August 20, a gravel truck fell onto the pipeline sending gasoline to Phoenix shutting down the line providing 70% of the valley's gas. Although the pipeline was underground and not damaged, federal regulations required that it be inspected before continuing its use. Inspection took only about 7 hours, but the interruption cut off an estimated 1.8 million gallons of gasoline.
Prior to the pipeline rupture in Tucson, Kinder Morgan had already proposed a $180 million expansion of the El Paso to Tucson to Phoenix pipeline. The expansion would increase the supply to Phoenix by about 1.8 million gallons a day. The expansion remains in its early stages with only $4 million being committed for permitting and engineering design as of August 2003.
The governor says she was misled. Three days before the pipeline was shut down, Governor Napolitano departed on a 7 day raft trip down the Colorado River. On Friday, August 15, as gas lines were beginning to form in Phoenix, she departed for the annual National Governors Association Conference in Indianapolis, scheduled to run through Monday, August 18. She would later say that Kinder Morgan had assured her that there would be only "spot shortages" of fuel. On the basis of those assurances, at a press conference on August 13, she predicted that there would be some outages at independent stations, but that there would be no widespread shortage.
About 1:30 PM on Sunday, Governor Napolitano returned to her room from a seminar on the economic allure of biotech companies to return a phone call. The news she heard was not good. While she was away, long lines were forming at gas stations. The prediction that there would be no widespread shortages was turning out to be seriously in error. Seventy percent or more of stations in the Phoenix area were out of gas.
The governor immediately returned to the state and took action. By Tuesday, she had secured a 30 day waiver from the U.S. Environmental Protection Agency which would allow Phoenix area stations to sell standard gas instead of the harder-to-get "Phoenix mix." She also received federal permission for truckers to work ten hours longer than the federally restricted 70 hours work week.
Gas lines disappear. As suddenly as the lines had formed, they were gone. On Tuesday morning, August 19, lines were disappearing. By Tuesday evening, motorists began to pass open stations with out stopping to top off their tanks. On Wednesday empty bays at stations with gas to sell could even be occasionally found.
Barrels vs. Gallons: Pipeline capacity is generally reported in barrels. It was difficult for your author to get a handle on this measurement since gasoline isn't delivered in barrels at the pump. As it turns out, a barrel is a strangely variable measurement. It can mean 21.67578125 gallons of cranberries or 26.25 gallons of any other fruit or any vegetable. Federal taxes on fermented liquors use a barrel of 31 gallons. The Arizona Republic is apparently under the impression that there are 50 gallons in a barrel of gasoline. According to the 1997 World Almanac and Book of Facts, a barrel of crude oil or petroleum products is customarily considered equivalent to 42 gallons. That is the conversion factor we have have used in reporting gasoline usage and delivery. Remarkably, a 42-gallon barrel of crude oil actually produces 44.2 gallons of petroleum products, but only 19.5 gallons of those products are gasoline. Aren't you glad you looked down here in the footnotes?
Sources:
Pipeline map based on information from "Gulf Coast to California Pipeline Feasibility Study," California Energy Commission Committee Report, August, 2003, Figure 1, p. 6, http://www.energy.ca.gov/reports/2003-08-08_600-03-014.PDF, accessed 8-23-03.
__________, "Erin Brockovich," Internet Movie Database, http://us.imdb.com/Title?0195685, accessed 8-23-03.
__________, "Phoenix gas stations running dry," Arizona Daily Sun, 08/18/2003, http://www.azdailysun.com/non_sec/nav_includes/story.cfm?storyID=71522, accessed 8-19-2003.
__________, "U.S. Retail Gasoline Prices," eia.doe.gov, http://www.eia.doe.gov/oil_gas/petroleum/data_publications/wrgp/mogas_home_page.html, accessed 8-21-03.
__________, "Explaining the Enron bankruptcy," CNN.com, January 13, 2002, http://www.cnn.com/2002/US/01/12/enron.qanda.focus/, accessed 8-22-03.
__________, "Judge Says Enron Should Repay State, latimes.com, http://www.latimes.com/business/local/power/la-fi-enron16jul16,1,111771.story?coll=la-headlines-business-power, http://www.latimes.com/business/local/power/la-fi-enron16jul16,1,111771.story?coll=la-headlines-business-power, accessed 8-23-03.
__________, "Gas prices climb sharply in the Southwest,"The Business Journal of Phoenix, August 22, 2003, http://www.bizjournals.com/phoenix/stories/2003/08/18/daily66.html, accessed 8-23-03.
__________, "Kinder Morgan Energy Partners Receives Approval to Begin Testing Tucson To Phoenix Pipeline Tonight," Kinder Morgan Energy Partners, L.P., August 19, 2003, http://www.kindermorgan.com/investor/kmi_press_releases.cfm, accessed 8-25-03.
__________, "Schedule for Governor Janet Napolitano for Week of August 2-8, 2003," Press Room, Arizona Governor Janet Napolitano, http://www.governor.state.az.us/press/0308/03_08_01a.pdf, accessed 8-27-03.
__________, "Schedule for Governor Janet Napolitano for Week of August 9-16, 2003," Press Room, Arizona Governor Janet Napolitano, http://www.governor.state.az.us/press/0308/03_08_08.pdf, accessed 8-27-03.
__________, "Steelmaking Process," Ohio Steel Virtual Classroom, http://www.ohiosteel.org/_virtual%20classroom/steel%20making%20process/steel_making_process.htm, accessed 9-1-03.
Michael Davis, "Kinder Morgan Energy Partners reports stout profits," HoustonChronicle.com, July 16, 2003, http://www.chron.com/cs/CDA/ssistory.mpl/business/energy/1998478, accessed 8-23-03.
Bill Hensel, Jr., "COMPANY OF THE YEAR: KINDER MORGAN ENERGY PARTNERS\Little-known pioneer rising to the top," HoustonChronicle.com, May 16, 2002, http://www.chron.com/cs/CDA/story.hts/special/chron10002/1410554, accessed 8-23-03.
Jonathan J. Higuera, "The perils of a pipeline," The Arizona Republic, Aug. 22, 2003, http://www.azcentral.com/arizonarepublic/business/articles/0822gas-pipeline22.html, accessed 8-22-03.
Edward Iwata, "Enron energy trader pleads guilty," USA Today, October 17, 2002, http://www.usatoday.com/money/industries/energy/2002-10-17-enron-belden_x.htm, accessed 8-23-03.
Max Jarman, "VALLEY GAS PRICES SOAR AS PIPELINE SHUTS DOWN 40-CENT INCREASE SEEN; SHORTAGES ARE POSSIBLE," The Arizona Republic, August 12, 2003, p. A1.
Max Jarman and Robbie Sherwood, "NAPOLITANO, PIPELINE COMPANY POINTING FINGERS," The Arizona Republic, August 20, 2003, p. A1.
John F. Kiefner, "DEALING WITH LOW-FREQUENCY-WELDED ERW PIPE AND FLASH-WELDED PIPE WITH RESPECT TO HCA-RELATED INTEGRITY ASSESSMENTS," presented at ETCE 2002 ASME ENGINEERING TECHNOLOGY CONFERENCE ON ENERGY February 4-6, 2002 Houston, Texas, http://www.kiefner.com/ERW.PDF, accessed 8-31-03.
Barrett Marson, "Phoenix gas crisis worsens," Arizona Daily Star, August 21, 2003, http://www.azstarnet.com/star/thu/30821GAS.html, accessed 8-24-03.
Janet Napolitano, Pipeline News Conference, Wednesday, August 20, 2003, http://www.governor.state.az.us/global/gas_shortage_comments_20.htm, accessed 8-24-03.
Janet Napolitano, Pipeline News Conference, Wednesday, August 21, 2003, http://www.governor.state.az.us/global/gas_shortage_comments_21.htm, accessed 8-24-03.
Larry Pierce, "Media Advisory #2, Tucson to Phoenix Pipeline," Kinder Morgan Energy Partners, Houston, August 12, 2003, http://www.commerce.state.az.us/docLib/ENERGY/8-12%20Kinder%20Morgan%20NR.pdf, accessed 8-25-03.
Monica Perin, "Kinder Morgan named in Reno chemical spill lawsuit," Houston Business Journal, June 23, 2003, http://austin.bizjournals.com/houston/stories/2003/06/23/newscolumn3.html, accessed 8-23-03.
Mary Vandeveire, "Dealers scrambling for gas\Closed pipeline stalls delivery of Tucson fuel," Fox11AZ.com, August 13, 2003 http://www.fox11az.com/news/local/stories/KMSB_local_gas_081303.18ad931.html, accessed 8-21-2003.