Shane, Bob
(Robert C. Shane, 1934.02.01- ) Singer.

Lives in Phoenix (Ahwatukee)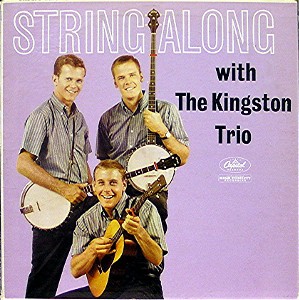 Bob Shane is pictured (top left) on the cover of "String Along with the Kingston Trio" which was released in July, 1960. The monaural 33 1/3 rpm album contains the interesting notice on the back, "This monophonic microgrove recording is playable on monophonic and stereo phonographs. It cannot become obsolete. It will continue to be a source of outstanding sound reproduction, providing the finest monophonic performance from any phonograph."
The lead singer for the Kingston Trio lives with his wife, Barbara Childress, in a condo on 46th Street at the Pointe South Mountain.
It was a long trip from Bob's birth in Hawaii where it was expected that he would eventually take over the family's wholesale distributor of toys and sporting goods business. Instead, he developed an interest in performing, singing in high school variety shows and performing at parties.
At one of the parties, he and a serviceman who shared his music interest met James Cagney. Cagney was impressed enough with their performance to suggest that they look him up if they made it to Hollywood. For his friend, Roger Smith, the meeting led to him being cast to play a younger version of Cagney's title character in Man of a Thousand Faces (1957). Bob finished high school in Hawaii but came to the mainland to attend Menlo College in California.
Bob returned to learn the family business in 1956, but was drawn back to entertainment. Performing on the island, he was billed as "Hawaii's Elvis". In 1957 he joined his high school singing partner Dave Guard and college friend Nick Reynolds to form The Kingston Trio.
"Tom Dooley" (1958) was the first big hit of the Kingston Trio. It proved to be so popular that it became the basis for the movie, The Legend of Tom Dooley (1959). Other hits of the trio include "The Tijuana Jail," "M.T.A.," "Where Have All the Flowers Gone?" and "Greenback Dollar."