Lori Piestewa (1980.12.00-2003.03.23) U.S. Army Pfc, first Native American woman to die in combat.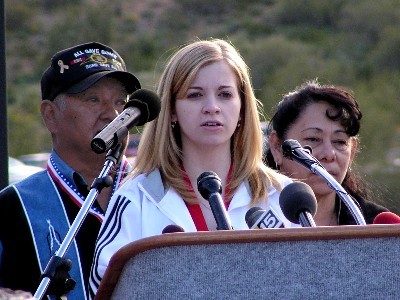 Jessica Lynch gives a tribute to her best friend, Lori Piestewa, at the Sunrise Memorial Service at the foot of Piestewa Peak. Lori's parents, Terry and Percy Piestewa, stand behind Jessica at the podium. 3-05.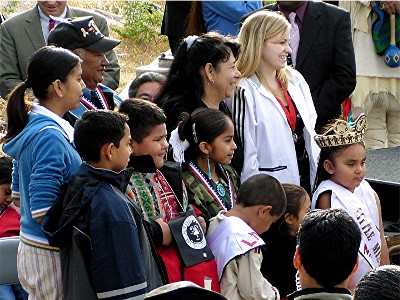 The Piestewa family and Jessica Lynch at the sunrise service. 3-05.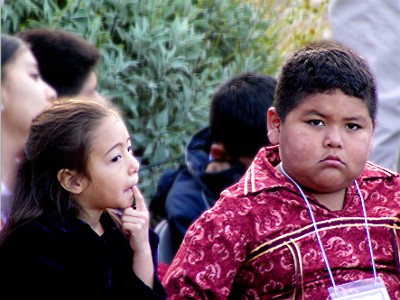 Lori's kids, Carla and Brandon. 3-05.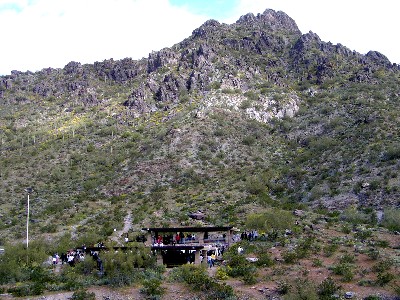 The Lori Ann Piestewa Sunrise Memorial Service took place at 6:30 AM on March 23, 2005 at a ramada at the base of Piestewa Peak. 3-05.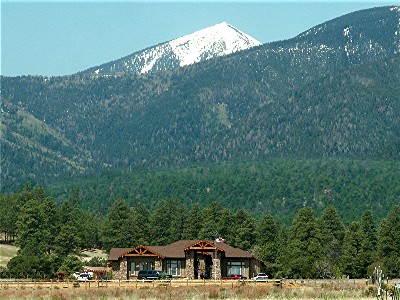 The home presented to the Piestewa family by Extreme Makeover Home Edition with a spectacular view of the San Francisco Peaks. 5-05.

Lived in Tuba City

Attended Tuba City High School
Like her father who was a Vietnam veteran and her grandfather who was a World War II veteran, Lori joined the service after high school. An army Private first class, Lori was assigned to the 507th Maintenance Company stationed in Fort Bliss, Texas, where she roomed with 19 year old supply clerk Jessica Lynch.

On February 17, 2003, the 507th was deployed to the Persian Gulf to take part in the US and British attack to remove Iraqi dictator Saddam Hussein. Just six weeks later, Lori and Jessica were in a six truck convoy to re-supply and support the rapidly advancing 3rd Infantry Division. The convoy took a wrong turn on the approach to the southern Iraq city of Nasiriyah. As they crossed a bridge, the lightly armed trucks were ambushed. Two of the company were confirmed dead while five were displayed on Iraqi television as prisoners of war. Lori and others were listed as missing in action.
For ten days after the March 23 ambush the families of Lori and of her roommate and friend, Jessica, were left to worry and wonder of the missing soldiers' fate. Then, in a daring raid a Special Operations unit force of Navy SEALs, Army Rangers and Air Force personnel rescued Jessica from her captors. The unit was acting on a tip from 32-year-old Iraqi lawyer who discovered his government's agents beating the prisoner when he visited his wife where she worked in a Nasiriyah hospital. At risk of his own life, he walked 6 miles to contact the Marines. On their instructions he returned to the hospital to make maps of the hospital and surrounding area which allowed the success rescue of a POW.
A doctor at the hospital took the rescue team to a burial site in the hospital compound. Digging with their hands since they had no shovels, they recovered 9 bodies believed to be U.S. servicemen. One of the bodies was later identified as Lori Piestewa.
Lori was a single mother with a 4 year old son and a 3 year old daughter. She is one of about 50 women have been killed in the line of duty while serving in the U. S. military, but Lori is the believed to be the first Native American to have died in combat. Hopi officials stated that 48 Hopis were serving in the U.S. military in Iraq.
In April 2003, Governor Napolitano announce that she would ask the Arizona State Board on Geographic and Historic Names to redesignate Phoenix's landmark Squaw Peak as Piestewa Peak.
Extreme Makeover. On the Sunday May 22, 2005, broadcast of ABC television's Extreme Makeover: Home Edition, the Piestewa family was presented with a $500,000 home north of Flagstaff.
The home came just in time. Lori's parents, Percy and Terry Piestewa, who were taking care of Lori's children, were about to lose their home in Tuba City. While they owned the mobile home where they lived, it was situated on reservation land. Both were employed by the Tuba City Unified School District, Terry as a maintenance man and Percy as a secretary, and about to retire. With the retirement they would no longer have the use of the land for their mobile home.
Lori and her best friend Jessica had made a soldier's pact: If something happened to either, the other would take care of the other's family. Jessica found an unusual way to fulfill her promise. She nominated Lori's parents as subjects for the ABC show. Lori helped design the 4,300 square foot home which was built in a week's time by a crew of 1,300 workers. The show sent Lori's parents and her two children to Disney World in Orlando during the construction so that they could be suitably surprised upon their return.