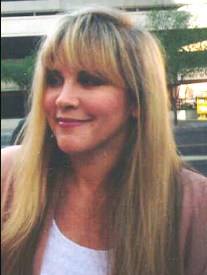 This photo was taken outside the Herberger Theater in Phoenix after a broadcast of "A Christmas Carol" on December 20, 1996. Stevie has been a repeat performer in the annual KTAR radio event. Photo taken by Debbi Radford who contributed it to The Nix Fix. Courtesy of The Nix Fix.
Nicks, Stevie (Stephanie Lynn Nicks, 1948.05.26- ) Singer.

Born in Phoenix

Lives in Paradise Valley
Stevie Nicks was born at the Good Samaritan Hospital in Phoenix to Jess Seth Nicks, a corporate president, and Barbara Nicks, a housewife.
Stevie's grandfather, Aaron Jess "A.J." Nicks was a colorful country singer that lived out of a couple of trailers in the Arizona mountains, traveled on freight trains, and was a bit of a pool shark.

When Stevie was four, she would sing country songs with her grandfather. He would take the little Stevie with him to various pubs where she would sing and dance. Her performances ended when her parents wouldn't let her go on a tour with A.J.
The Nicks left the valley when Stevie's father was promoted. Eventually they landed in Southern California where Stevie attended Arcadia High School and joined her first band, The Changing Times. A year later, the family moved to Atherton, CA, where she met Lindsey Buckingham at Menlo-Atherton High School. A few years later, Lindsey asked Stevie to join his band Fritz. When Lindsey received an offer on New Years Eve 1974 to become Fleetwood Mac's new guitarist he brought Stevie with him. By May, 1975, Stevie was a star.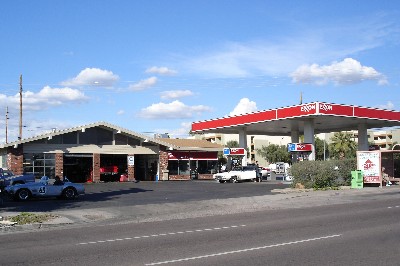 The Exxon station on the Northwest corner of Camelback and 40th Street is remarkable not just because it's where Stevie Nicks is reported to gas up. It also still has a full service bay, and a garage that actually provides automotive service! 2-05.
By the 1990's, Stevie had returned to the Phoenix area and was living in Paradise Valley.
In a demonstration of how starved for celebrity gossip the valley is, The Arizona Republic reported that Stevie gasses up at the Camelback Exxon station at Camelback and 40th Street.