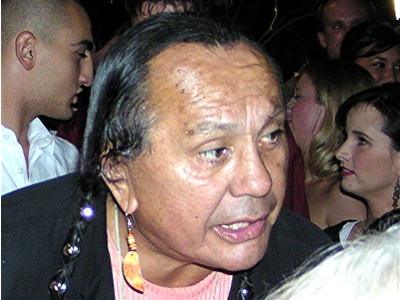 Russell talks with a fan seeking an autograph at the premier of Black Cloud (2004). Russell plays Bud, the boxing coach. 9-04.
Means, Russell
(1939.11.10- ) Indian activist, actor.

Lived in Chinle

Treated in Tucson
Russell Means is the Oglala/Lakota Sioux Indian that came to national attention in 1972 from his role as national director of the American Indian Movement (AIM) in a standoff with the US government at Wounded Knee.
Having tried his hand as assistant golf pro, ballroom dance instructor, computer programmer, systems management director, and accountant, he turned to acting when he was cast as Chingachgook, the title character in The Last of the Mohicans (1992).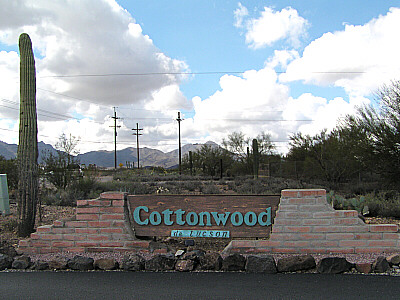 The road at 4110 W. Sweetwater Drive leading to the "hideaway for rich people" is marked by a modest sign. 2-03
When the movie wrapped, Means checked into Cottonwood de Tucson for a 30-day total-immersion treatment program at what Means described as "a non-Indian hideaway for rich people".
In 1987, Means and his fourth wife had a small prefabricated two-bedroom house built in Chinle--a small northern Arizona community surrounded by the Navajo Reservation and next to the spectacular Canyon de Chelly National Monument. Though divorced, Means continued regular trips there to visit two of his 13 children.