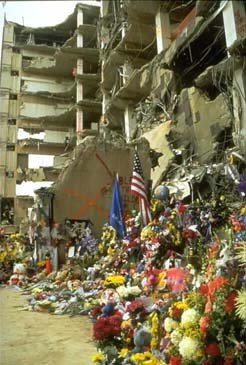 Children's memorial in front of the wreckage of the Alfred P. Murrah Federal Building. FEMA photo. 5-04.
McVeigh, Timothy
(1968-2001.06.11) Terrorist.

Lived in Kingman
This country's most notorious home grown terrorist took up residence in Kingman, Arizona, where he plotted to blow up the Federal building in Oklahoma City. And, blow it up, he did. On Wednesday, April 19, 1995 McVeigh parked a rented Ryder truck packed with 7,000 pounds of explosive in front of the Alfred P. Murrah Federal Building in Oklahoma City. McVeigh walked way from the truck, and at 9:02 AM the truck exploded destroying the front of the building and killing 168 people including 19 children.

The epicenter of the plot. Kingman is the epicenter for Route 66 kitsch in Arizona. That status is proudly promoted to entice motorists into leaving a few bucks with the many Route 66 enterprises around the community. Shortly after the devastating explosion in front of the Murrah Building, Kingman found that it had unknowingly been the epicenter of a much more sordid enterprise: McVeigh's bombing plot.
McVeigh's Kingman connection began in early 1993 when he quit a security guard job in New York and eventually moved in with his old army buddy, Michael Fortier, who lived in Kingman. On the way, he stayed with another army buddy, Terry Nichols, on Nichol's Michigan farm. The three had gone through basic training together and remained friends.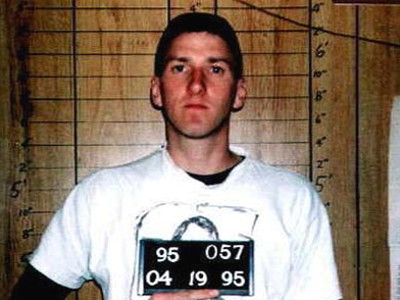 McVeigh's mug shot.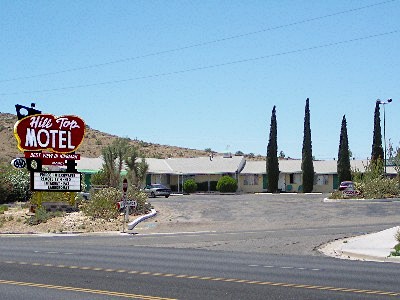 The Hill Top motel at 1901 E. Andy Devine Avenue was one of a number of Kingman motels where Timothy McVeigh stayed. 5-04.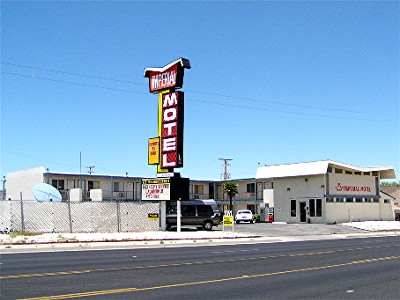 The Imperial Motel at 1911 E. Andy Devine Avenue where Timothy McVeigh stayed. 5-04.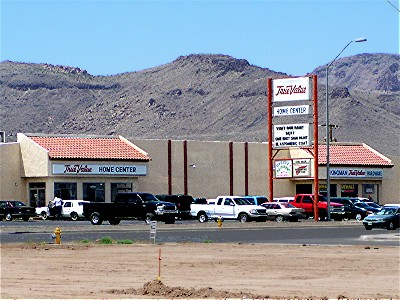 In February, 1994, McVeigh got a job at the Kingman True Value Home Center, 3633 N. Stockton Hill Road. 5-04.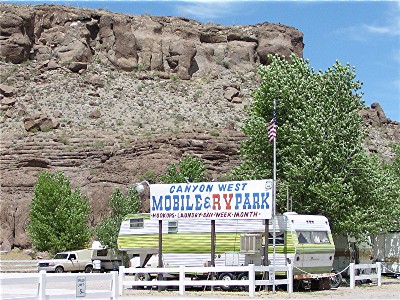 The entrance to the Canyon West Mobile & RV Park outside Kingman. 5-04.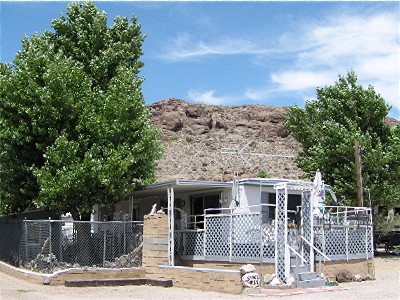 The trailer that Timothy McVeigh rented at space number 11 in the Canyon West Mobile and RV park. 5-04.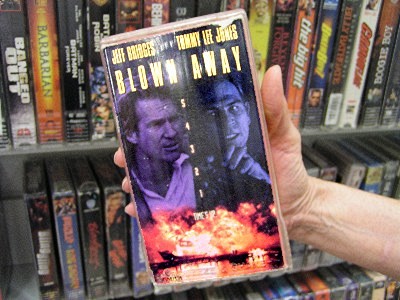 McVeigh rented the video Blown Away from the Hastings Book, Music & Video store. Since the pictured VHS tape was the only copy in the store on our visit, we concluded that it was the same copy that McVeigh once watched. 5-04.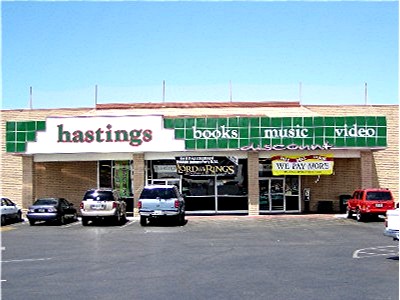 The Hastings video store at 3153 N. Stockton Hill Road, Kingman. 5-04.
Around the time that McVeigh decided to quit his Michigan job and headed for Arizona, an event was taking place which would weigh heavily on McVeigh's mind and shape his future actions. On February 28, 1993 Federal agents raided the Branch Davidians compound near Waco, Texas, to confiscate a substantial cache of illegal weapons. The raid resulted in a 51-day siege which ended on April 19 when the compound was burnt to the ground. 75 men, women, and children were killed, including the group's charismatic leader, David Koresh.
In a letter to Fox News, McVeigh would later explain his bombing of the Murrah Federal Building. He would call it a "retaliatory strike" for the "militaristic and violent" actions of the Federal agents in Waco where "our government - like the Chinese - was deploying tanks against its own citizens."
From May to July, 1993, McVeigh worked as a part-time security guard at State's Security in Kingman, staying with Fortier and in a number of Kingman motels. In June, he used his security-guard income to rent a more permanent residence. He rented trailer number 11 at the Canyon West trailer park south of Kingman for $250 per month.
In September, McVeigh left for Michigan, but by February, 1994, he was back at the Canyon West trailer park, and he had a full time job. In February, McVeigh got a job paying $5 an hour at the True Value Hardware store in Kingman.
Trailer park trouble. Back at the park, McVeigh was living with his pregnant girlfriend, but not making a lot of friends. Park residents described him as an arrogant loner who expressed anger against the Federal government. He often wore Army fatigues and frequently caused trouble for his neighbors.
The park owner said that McVeigh drank a lot of beer and tossed out the cans which the owner had to pick up. He had frequent confrontations with McVeigh over loud rock music from McVeigh's trailer and a dog he kept in violation of his lease. McVeigh was evicted from the park in June, 1994.
In July, 1994, McVeigh traveled to Las Vegas, where he was best man at his army buddy Fortier's wedding.
McVeigh was a customer of the Hastings Book, Music, and Video store in Kingman. One of the videos he rented was Blown Away (1994). The movie is about a former member of the bomb squad investigating the bombing death of his successor.
A plot is hatched. In September, 1994, McVeigh began hatching a plot to exact retribution from the government he hated. He laid plans to blow up a government building.
Phoenix was on the list. According to an unmailed letter found in McVeigh's car after his arrest, Federal Buildings in Phoenix and in Omaha were on McVeigh's short list of other targets.
Execution of the plot. In October, 1994, McVeigh and Nichols stole explosives from a storage locker in Marion, Kansas, and brought them back to Kingman where they stored them in another storage locker. While staying with Michael Fortier and his wife Lori, he designed his bomb. He used soup cans to show Lori how the drums he planned on using could be arranged for maximum explosive power.
By mid-December, the plot was really taking shape. McVeigh met with the Fortiers in his room at the Mojave Motel in Kingman. Lori wrapped blasting caps in Christmas boxes. McVeigh and Michael then left for Kansas. On the way, they drove through Oklahoma City. McVeigh showed Fortier the building he intended to bomb, and the path he intended to take after leaving the truck loaded with explosives in front of the building.
Fortier retuned to Kingman, but McVeigh stayed on. In April, 1995, McVeigh and Nichols packed a rented Ryder truck with explosives. Nichols returned to his home, leaving McVeigh to complete the plot. The next day McVeigh parked the Ryder truck in front of the Alfred P. Murrah Federal Building and walked away.