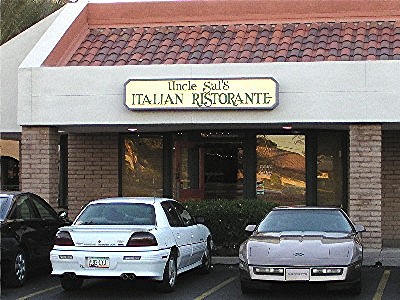 Sammy's wife Debra operated Uncle Sal's Italian Ristorante in the strip mall at the southeast corner of Hayden and Osborn roads in Scottsdale. The restaurant billed itself as "The best kept secret in Scottsdale." 11-03.
Gravano, Sammy "the Bull"
(Salvatore Gravano, alias Jimmy Moran, 1945.03.12- ) Mafia underboss.

Imprisoned in a Federal Correction Center in Arizona

Lived in Tempe

Convicted of drug trafficking in Arizona
Sammy earned his tag name as a dyslexic kid that beat up older kids in Brooklyn. He rose up the mob ranks running gambling operations, fixing construction contracts, and loan sharking, eventually becoming a La Cosa Nostra mob underboss. Along the way he committed 19 murders.

Sammy's run with the mob came to an end on the evening of December 11, 1990 when the FBI arrested him and his bosses, John Gotti and Frank Locascio. Sammy turned state's evidence and on March 2 of 1992 he began nine days of testimony. The testimony lead to the conviction and imprisonment of 37 mobsters, with Gotti and Locascio getting multiple life terms without possibility of parole.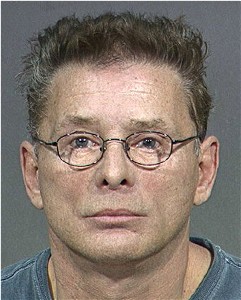 Sammy the Bull's mug shot taken by the Maricopa County Sheriff's office..
Sammy says that he would have never testified for the prosecution if he had not heard heard wiretaps of Gotti dissing him. Whatever his reason for testifying, in exchange Sammy got a light sentence--5 years in an federal prison in Arizona. Upon release he got a new life under the Witness Protection Program, complete with plastic surgery and a new name: Johnny Moran.
Sammy says that he went "legit" following his release. He operated Marathon Development in Phoenix near 45th Street and University Drive. The construction company employed 15 people and grossed nearly a million dollars a year. He also operated a swimming pool installation company, Creative Pools.
Ecstasy
Technically known as 3,4 methylenedioxymethamphetamine or "MDMA" for short, is also know as "Adam," "XTC," "Doves" or just "E." It was patented by the German drug company Merck in 1914. It was originally thought to be useful as an appetite suppressant and later used by psychiatrists because it assisted in having patients talk openly about feelings. Therapeutic use of the drug was stopped in 1986 when studies showed that it caused brain damage.

In 1990 Ecstasy became popular in rave clubbing. It is said to cause the feeling that user is part of one big happy family.
Sammy moved into a small apartment at the Park Tree Rental Community in the 1300 block of West University in Tempe. His wife and daughter lived in a 4,400 square foot home on 1½ acres near Elliott Road and McClintock Drive in Tempe. His wife also opened an Italian restaurant in Scottsdale.
Sammy said that his goal was to create a business that he could pass on to his children and grandchildren. Unfortunately, the business which he, his wife Debra, his son Gerard, his daughter Karen and her husband were charged with operating was a statewide Ecstasy drug distribution ring. The ring was reported to have begun in 1999, the same year in which Sammy repeated the adage, "a leopard can't change his spots" in interview with the Arizona Republic.
On October 30, 2002, Sammy was sentenced to 19 years for his involvement in the drug ring.