Danson, Ted
(1947.12.29- ) Actor.

Lived outside Flagstaff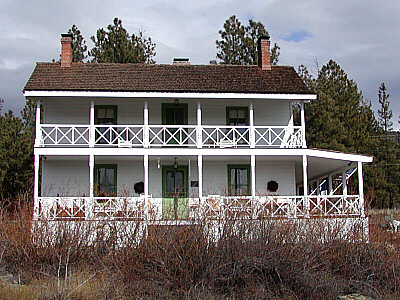 After Ted's father, Ned Danson, was director of the Museum of Northern Arizona in the 1959, the family lived in the McMillan homestead, directly across highway 180 from the museum. Thomas F. McMillan built the square log house in 1886, later covering it with siding. Museum founders, Dr. and Mrs. Colton, purchased the property in 1927. 11-02
Best know for his role as bar owner Sam Malone in the long running television series Cheers (1982-1993), Ted Danson grew up around Flagstaff where his father, an archeologist and anthropologist, was a director of the Museum of Northern Arizona.

On Saturday, November 8, 2003, Ted returned to the Museum of Northern Arizona to tend bar. No, he wasn't down on his luck. He was taking a break from his series Becker (1998- ) to help celebrate the museum's 75th anniversary.
Ted was the central attraction of the event. From behind the bar just like his character Sam Malone from Cheers, Ted was serving drinks and regaling patrons with stories. This time, the stories included growing up on the grounds of the museum. He also brought a reel of Cheers bloopers.

The Museum of Northern Arizona was founded in 1928 by a Philadelphia zoologist, Dr. Harold S. Colton, and his artist wife, Mary-Russell Ferrell Colton. The private, nonprofit museum's limited objective is the preservation of the history and culture of Native American on the Colorado Plateau. More information about the museum is available from their site, www.musnaz.org.