Crane, Bob
(Robert Edward Crane, 1928.07.13-1978.06.29) Actor, disk jockey, drummer.

Murdered in Scottsdale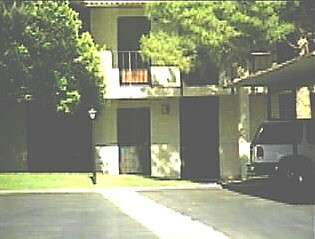 Bob Crane's bludgeoned body was found in apartment 132A of the Winfield Apartments at 7430 E. Chaparral Road, Scottsdale, AZ. On May 15, 2003, the apartment's owners, Ron and Pat Herbst put the 1002 square foot condominium unit up for sale on eBay scheduling the minimum bid at $180,000. Similar units in the complex sold for around $100,000. 6-98.
In the afternoon of June 29, 1978, actress Victoria Berry knocked on the door to apartment 132A at the Winfield Apartments. She expected her knock to be answered by former TV star Bob Crane. There was no answer. She pushed the open the unlocked door and went inside. There she found his half naked body lying in bed. His face was so badly beaten that he was unrecognizable from the left side. An electric cord was wrapped around his neck.
With his murder, Bob Crane received the publicity which he had desperately sought during the seven years following the cancellation of his television series. Until the prison camp closed, Crane had enjoyed the media attention that spurred on a constantly rising career.
Crane began his performing career at 16 when he dropped out of school and became a drummer in a symphony orchestra. His sense of humor got him in trouble and he was fired for clowning around. After playing with several bands and marrying his high school sweetheart, the 22 year old Crane was hired as an announcer at a small radio station for $37.50 a week. After a couple of moves to different stations, his salary shot up to $500 per week.
In 1956, at the age of 28, he hit the big time. CBS radio in Los Angeles hired him as the morning drive time personality. After a tame start, the ratings spiraled up, as did Crane's salary. Crane hobnobbed with stars interviewing countless celebrity guests, including Jerry Lewis, Bob Newhart, Jonathan Winters, Marilyn Monroe, Jane Mansfield, Frank Sinatra, and Ronald Reagan.
Crane developed an interest in acting. He appeared in a number of local theater productions. He also became interested in photography, making home movies of skits with his family.
His radio celebrity lead to a number of guest appearances on TV shows. Then, in 1963 he moved to television when he was cast in the recurring role of the Stone's next-door neighbor on The Donna Reed Show. He did not give up his day job as "King of the Airwaves" at KNX. From 6 to 10 in the morning he was live on radio. For the rest of the day he was on the set of the TV show.
Crane departed the TV show in 1964, some say because of a sexually aggressive attitude toward his stage wife. By that time, his biggest triumph was already in the works: A unusual series set in a World War II prison camp.
In 1965, Hogan's Heroes premiered. It placed an impressive ninth in the Nielsens, and was the only new series to do well. In the first two seasons, Crane twice received Emmy nominations for Best Actor.
The handsome star of the hit new television series became a fixture in Hollywood night scene. He revealed an interest in buxom women and was a frequent visitor to topless bars and strip clubs. He found a way to blend his sexual interests with his love of the camera. He began to videotape his sexual encounters. Co-star Richard Dawson introduced Crane to video salesman John Carpenter who shared Crane's interest in photography and, as it turns out, sex.
Still married, Crane had an affair with actress Cynthia Lynn who played the played Colonel Klink's secretary. Later, he had an affair with the actress Patti Olsen. After 21 years of marriage Crane divorced his wife and married Patti.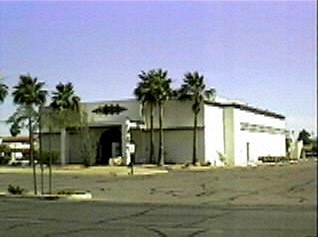 In 1998, the building at Shea Boulevard and Scottsdale Road remained, but the Windmill theater had been replaced by the "Buzz" night club. 6-98.
To the surprise of the cast, Hogan's Heroes was canceled after its 6th season. Crane would never be able to replicate the success of the series. A romantic comedy film (The Wicked Dreams of Paula Schultz, 1968), was a dismal flop. He did a few TV movies and a Disney film (Superdad, 1974). In 1975 NBC gave him his second shot at a series. The Bob Crane Show lasted only 13 weeks.
To jump start his career, Bob Crane turned to the stage and the play, Beginner's Luck which he had earlier purchased. He began to tour the dinner theater circuit which brought him to Scottsdale's Windmill Dinner Theatre in the summer of 1978. This was the last performance which Crane would ever give. His body was found in the Scottsdale apartment where he was staying for the run of the play.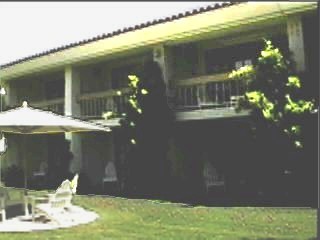 John Carpenter stayed in Room 206 at the Sunburst Motel (now the Sunburst Resort) on the Southeast corner of Chaparral & Scottsdale Roads, just a block away from the murder site. From his room, he could see Crane's apartment complex.. 6-98.
Crane had not left performing before the TV camera entirely behind. The police found video equipment and a library of video tapes in the apartment. The tapes showed the actor engaged in group sex with various women. Prominently featured in the videos was Crane's long time friend and videophile John Carpenter.
The police investigation immediately centered on Carpenter. It had been a pattern for Carpenter to visit Crane in towns where Crane was on tour. The two would make the rounds at bars and night spots to pick up women, bringing them to Crane's apartment to perform in front of the camera. The handsome, personable and famous Crane was Carpenter's entrée to women and sex. But Crane had expressed his intention to break of his relationship with Carpenter, and possibly end his sexual escapades.
Carpenter had been bar hopping with Crane on the night of the murder. They had picked up two women and had been seen the Safari cafe. Crane went home alone. Carpenter took one of the women to his motel, the Sunburst Resort, only a block away. Carpenter left early the next morning. Blood matching Crane's rare blood type was found in the car Carpenter had rented. But no murder weapon was found, and DNA testing which could make a positive identification had not yet been developed. The county attorney at the time, Chuck Hyder, declined to prosecute.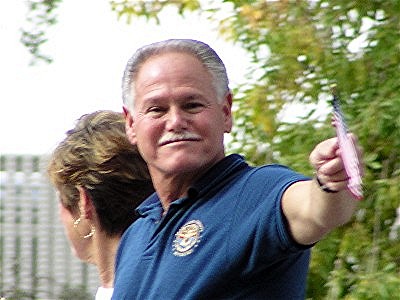 Rick Romley did not share his predecessor's reluctance to prosecute the case in spite a dearth of evidence against Carpenter. Over a decade after reopening the case, Romley remains the county's head attorney. Pictured above, he leads his office's entry in the 2003 Phoenix Veteran's Day Parade. 11-03.
In 1988, Rick Romley was elected to his first four year term as Maricopa County Attorney. Midway through that term, his office was taking steps to reopen the more than decade-old case.
Investigators determined that bits of human tissue seen in photos of Carpenter's rental car matched those found at the murder scene. They also concluded that the murder weapon was a second tripod seen in video tapes but missing from the actor's apartment.
Early in the morning of June 1, 1992, a group of police cars in the south Los Angeles suburb of Carson pulled over a Mazda RX7. The man at the wheel, John Carpenter, was placed under arrest by an investigator from the Maricopa County Sheriff's office.
In 1994 Carpenter's trial began. The evidence had not improved with age. By the time of the trial, the tissue found in the rental car and which was believed by some to be from the victim's brain then existed only in photos. An key investigative witness who was supposed to have compared all prints found in Crane's apartment with those in the rental car was found to have lied. After two months of trial, Carpenter was found not guilty.
Greg Kinnear, a University of Arizona graduate, played Bob Crane in the movie version of Crane's life, obsessions, and death, Autofocus (2002).