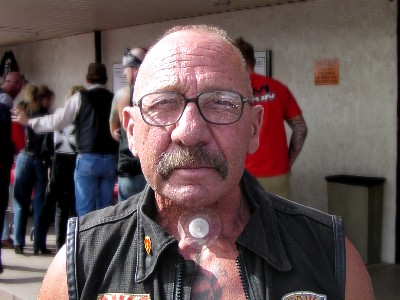 Sonny Barger posed for a photograph as he prepared to celebrate his 66th birthday with a motorcycle run from the Steel Horse Saloon at 19th Avenue and Bell Road to the Buffalo Chip Saloon in Cave Creek. 10-04.
Barger, Ralph "Sonny" (Ralph Barger, Jr., c. 1939- ) Hells Angel icon, author, entrepreneur.

Imprisoned at the Federal Correctional Institution, Phoenix

Lives in New River
Sonny Barger is the world's most famous Hells Angel. He is the founding member and President of the Oakland chapter who is credited with pulling the disparate clubs together in the 1960's and unleashing the club on a worldwide expansion drive.
In the late 1980's his biking career was interrupted for him to spend some quality time in the Arizona sun. The four year hiatus wasn't exactly voluntary. He was a guest at the federal prison in Arizona for conspiring to blow up the clubhouse of the Outlaws, a rival biker gang.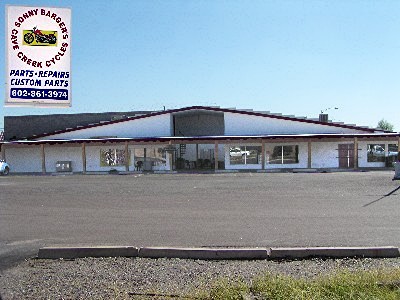 The world's most famous Hells Angel repaired cycles at 10637 N. Cave Creek Rd. in Phoenix until he retired from that business . 3-03.

When Barger was released in 1992, he took some favorable memories of the Arizona climate with him. A few years later, he relocated to New River--a short ride from his federal holiday locale. He seemed even to have joined the establishment, opening a bike repair shop in nearby Cave Creek.
Barger found a market for club related products beyond members of the outlaw biker organization. Bikers and the curious can buy motorcycles, gear and collectibles including Hell's Angels®, and Sonny Barger™ products from from his web site www.sonnybarger.com.
Fans can also pick up copies of his books. Although book reviews have not been particularly kind, his first book, Hell's Angels: The Life and Times of Sonny Barger and the Hell's Angels Motorcycle Club, (2001, William Morrow & Co.) has become a best seller. One reviewer suggests making the already brief book even shorter read by skipping over the the numerous "f" words. Barger followed up the success of the first book with a second, Ridin' High and Livin' Free (2002, William Morrow & Co.).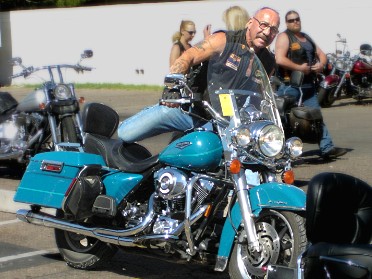 Barger mounts up to lead the pack celebrating his 66th birthday. 10-04.
Barger remains in the Hells Angels as a member of the Cave Creek Chapter. Touring internationally to promote his books, he also acts as an unofficial ambassador of the biking club. The aging Barger, the once rakish icon of the "one percenters"--that 1% portion of cyclers that American Motorcycle Association described as giving the rest a bad rap--speaks with a raspy voice reminiscent of the possessed child in the Exorcist. Thanks to a 30 year, three-Camel-pack-a-day habit, Barger needed throat cancer surgery in the early 1980's. He breathes through a plastic valve in his neck, and covers the vent to speak. His exhaled breath then passes through a reconstructed larynx.
More recently, Barger followed up the 21 arrests he had when his first book was published with a stint in an isolated cell at Sherriff Joe Arpaio's Madison Street Jail. On March 7, 2003, the 64 year old Barger was arrested at his New River home after a reported fight with his third wife and step daughter. He was placed in the isolated cell for his own protection.
Books & Video from amazon.com

Hell's Angel: The Life and Times of Sonny Barger and the Hell's Angels Motorcycle Club by Sonny Barger, Keith Zimmerman, Kent Zimmerman

Ridin' High, Livin' Free: Hell-Raising Motorcycle Stories by Ralph "Sonny" Barger, Kent Zimmerman, Keith Zimmerman

Dead in 5 Heartbeats : A Novel by Ralph "Sonny" Barger, Kent Zimmerman, Keith Zimmerman

Soul on Bikes by Keith & Kent Zimmerman, Tobie Gene Levingston, Ralph "Sonny" Barger, Keith & Kent Zimmerman

DVD: Hells Angels on Wheels
Jack Nicholson

VHS: The Golden Age of Leather Vol.1 - Hell's Angels 69/The Losers (2000)