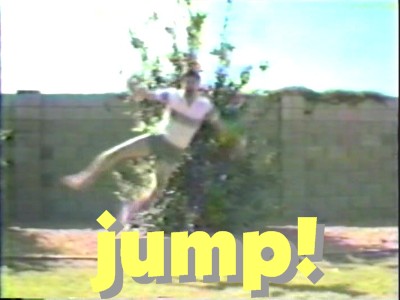 4 min. 30 sec. c. 1985.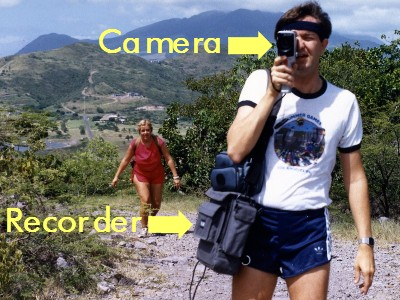 Home video equipment in 1984 consisted of a hand-held camera with a pickup tube, and a separate recorder which could be carried in an over the shoulder utility bag.
Jump. In 1981 Warner Communications and American Express joined forces to form a new music cable network aimed at young adults. That new network was MTV, which made the music video popular viewing in millions of American homes.
The VCR was already an established piece of home technology, although the camcorder was not. Instead, video cameras which could be plugged into the VCR were becoming available at reasonable prices.
The equipment was ready for the wannabe director to make his own music video if only he could find a musical selection that would not make great demands on his creative talents.
The Pointer Sisters came to the rescue with Jump (For My Love) from their 1983 album Break Out. Our copy was on a 12 inch vinyl disk--the CD was just reaching the American market and had not yet reached our house.
For us, the two outstanding attributes of the Pointer Sisters selection were its simple, one-word topic (jump) and its rhythm--as every teen that rated a record on Dick Clark's Bandstand would say, "It's got a good beat and you can dance to it." All our actors had to do was move, more or less in time with the music, and ... jump.
A few months after Jump peaked at #3 on the Billboard Hot 100 in July 1984, we gathered a few our friends around our pool. Little did they know that they were about to be immortalized on this home music video.